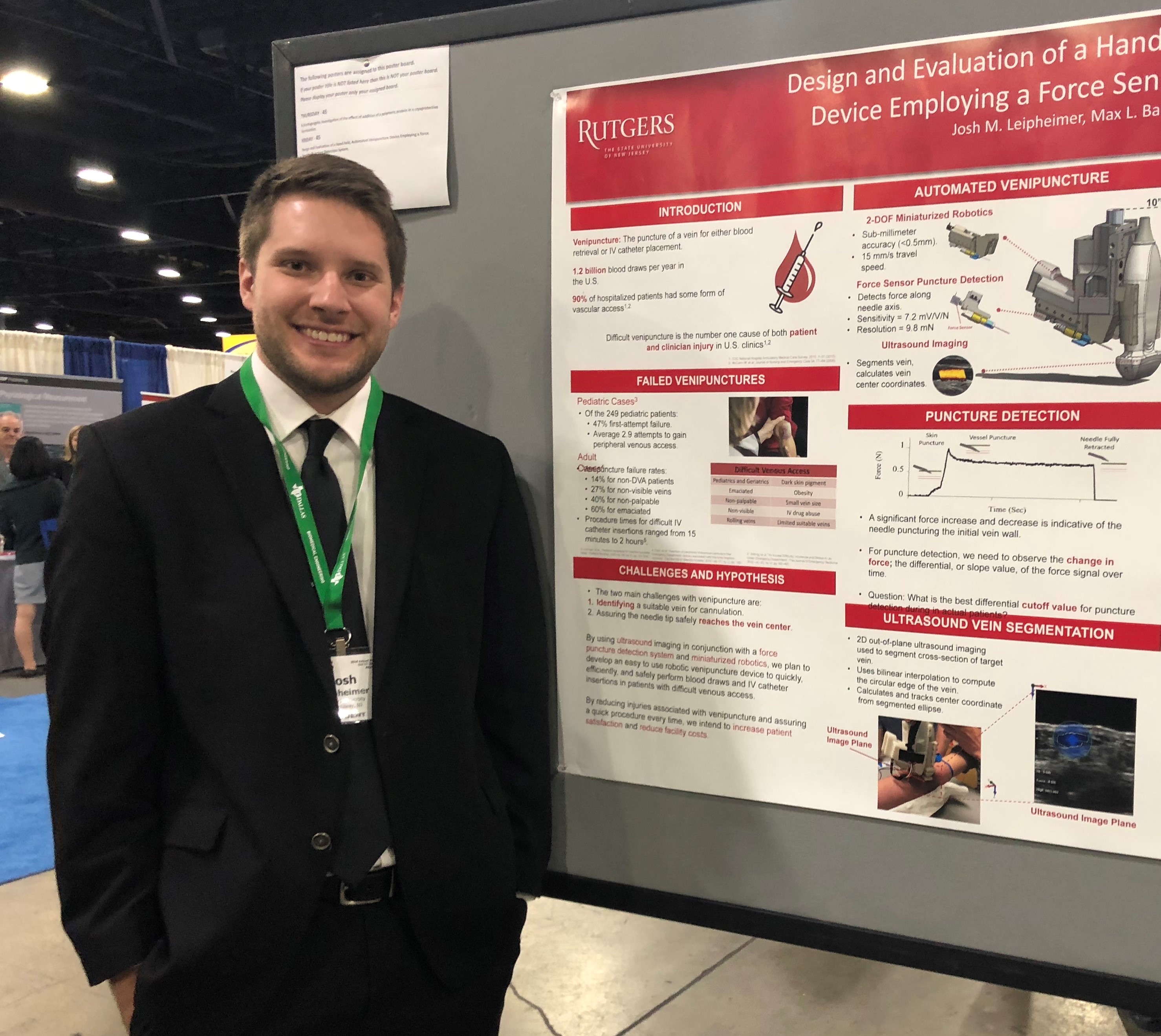 Education
BS, Biomedical and Mechanical Engineering, Minor in Mechatronics, Robert Morris University 2016
PhD Candidate, Biomedical Engineering, Rutgers University, 2016-present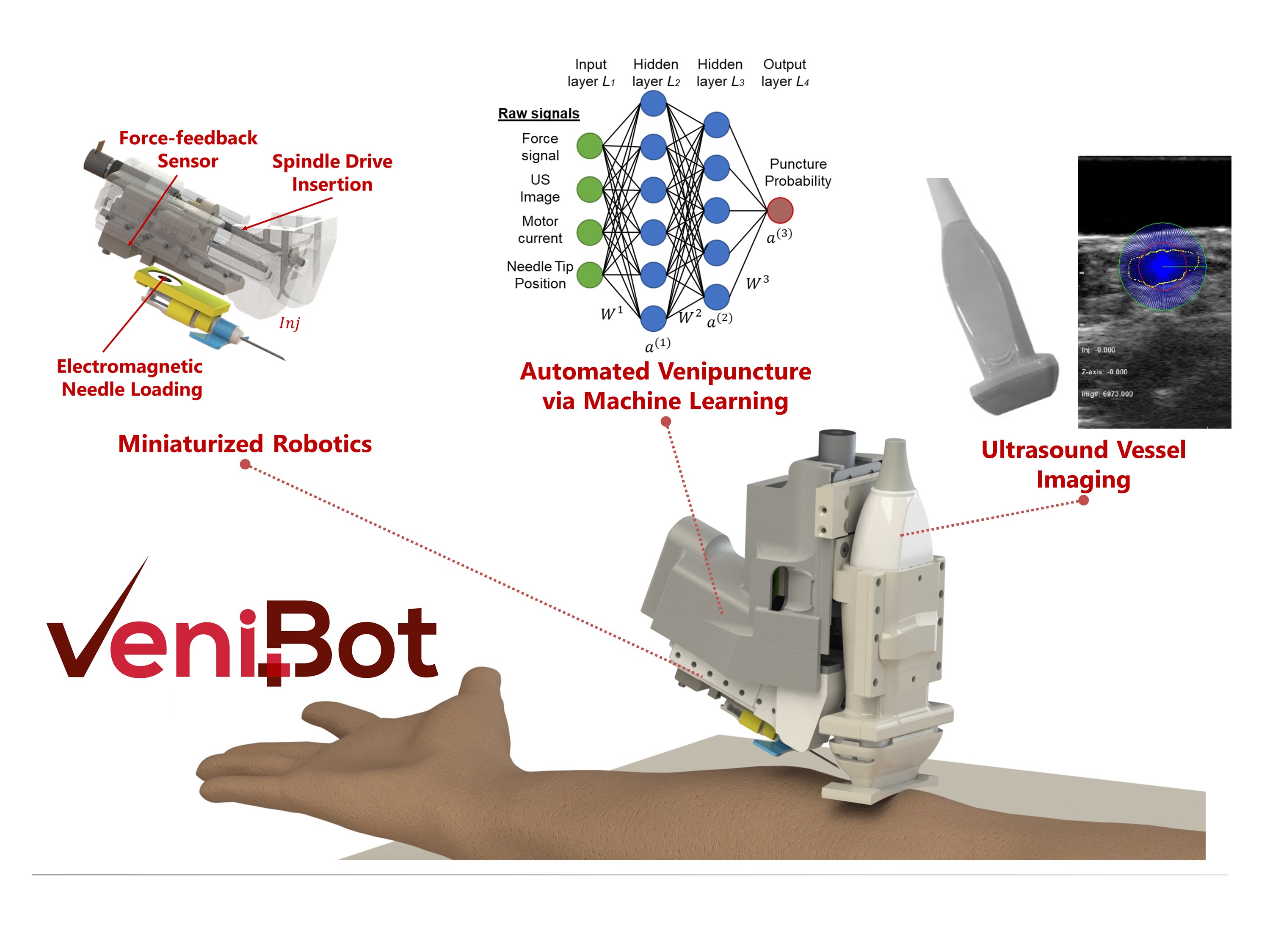 A hand-held device to perform blood draws and IV catheter placements safely, quickly, and efficiently on difficult venous access patients.
Research Interests
Medical devices, robotics, mechatronics, control systems, ultrasound imaging, computer vision, machine learning, automation
Research Summary
Venipuncture, obtaining venous access for clinical intervention, is an essential first step in patient healthcare. Consequently, it is the most prevalent medical procedure and also the leading cause of injury to both patients and clinicians, with difficulties in obtaining venous access costing the US healthcare over $4 billion annually. This is because venipuncture success rates rely heavily on clinician experience and patient physiology, in which non-visible, non-palpable, or rolling/deforming vessels create challenges for clinicians placing a needle. Here, we are working to develop a hand-held, robotic device that can assist clinicians in quickly, safely, and efficiently obtaining venous access in any difficult situation. By combing miniaturized robotics, ultrasound imaging and machine learning algorithms, we aim to develop a smart device that can autonomously perform both blood draws and IV catheter placements successfully on a wide range of difficult venous access patients. By reducing injuries and improving venipuncture procedure times, we aim to improve patient outcomes while simultaneously reduce the burden to both healthcare facilities and personnel.
Awards & Honors
2016-17, Eugene V. Dubois Graduate Fellowship Award, Rutgers University
2016-17, SUPER Grad Fellowship Award, Rutgers University
2017-19, NIH Biotechnology Training Program Fellowship, Rutgers University
2018, 1st Place Winner – Three Minute Thesis (3MT), Rutgers University
2018, 2nd Place Best Poster – 2018 Biotech Symposium, Rutgers University
Publications
Fromholtz A, Balter ML, Chen AI, Leipheimer JM, Shrirao A, Maguire TJ. "Design and Evaluation of a Robotic Device for Automated Tail Vein Cannulations in Rodent Models" ASME Journal of Medical Devices 2017 PMID: 29230256. https://www.ncbi.nlm.nih.gov/pmc/articles/PMC5676643/
Balter M, Leipheimer JM, Chen A, Shrirao A, Maguire TJ, Yarmush ML. Automated end-to-end blood testing at the point-of-care: Integration of robotic phlebotomy with downstream sample processing. Technology. June 2018; 6(2): 59-66. PMID: 30057935. https://www.ncbi.nlm.nih.gov/pmc/articles/PMC6058193/
Representative Graduate Courses Taken
Biomedical Engineering Math Modeling
Biomaterials & Biomechanics
Engineering Ethics and Seminar
Bioimaging Methods
Applications in Medical Device Development
Engineering Writing and Seminar
Professional Preparedness in Biotechnology
Structure and Dynamics in Adult and Stem Cell Biology
Artificial Implants
Bioengineering in the Biotechnology and Pharmaceutical Industries
Nano and Micro Biointerfaces
Innovation and Entrepreneurship for Science and Technology
Leadership & Outreach
Graduate Student Association Representative - Biomedical Engineering Student Society (BESS). 2017-18.
Senior Design Mentor - Rutgers Biomedical Engineering Department. 2017-18 & 2018-19.